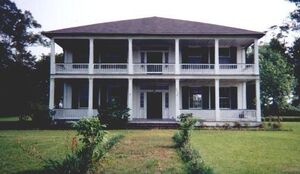 Het huis van de Susie Plantation is gebouwd in het begin van 1800 door de ouders van Addie E. Harris. De werkende plantage werdt gegeven als bruidschat aan haar man, James Stirling Hereford. Twee jaar later overleedt Addie.
Addie was verheugd toen ze erachter kwam dat ze zwanger was en had nooit verwacht dat ze zou overlijden tijdens de bevalling. Ze was maar 22 jaar geworden toen zij en haar kind overleden in 1876.
Ze werdt, samen met haar kind, begraven in een tombe die naar het huis stond met een marmeren grafsteen waarop staat "Weep not for me, I am not dead, I only sleepth" (Huil niet voor mij, ik ben niet dood, ik slaap alleen). Dit kan waar zijn, want zij verschijnt in foto's die gemaakt worden op het terrein en wordt gezien op vele plekken in het huis.
Susan en William Smith, inwoners van Virginia, bezaten het huis rond 1880. Volgens de onlangs ontdekte notities van een lijkschouwer kan er een andere reden zijn voor de vreemde gebeurtenissen in het huis. Ann Smith, 50 jaar oud, kampte blijkbaar met hartproblemen. Op 18 juni 1993 overleed zij voor het huis door de extreme hitte die dag. Misschien is dit een andere reden voor de vreemde dingen die in het huis gebeuren.
Het huis stond ooit te koop voor $127,000 met 3 are land. Het stond zeker 6 jaar te koop.
Ad blocker interference detected!
Wikia is a free-to-use site that makes money from advertising. We have a modified experience for viewers using ad blockers

Wikia is not accessible if you've made further modifications. Remove the custom ad blocker rule(s) and the page will load as expected.