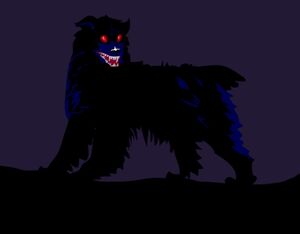 Oude Rode Ogen (Beest van Vlaanderen, Beast of Flanders) is een folkloristisch wezen of demon. Het zou een zwarte zeven voet lange man zijn. Hij kon tevens in een hond met vurige ogen veranderen. Na zijn dood werdt het een schaduwfiguur met rode ogen, dat zijn naam verklaart. Als hij 's nachts verschijnt, horen mensen vaak het gegrom van een hond.
Geschiedenis
Edit
De verhalen en signaleringen van Oude Rode Ogen begonnen in de 15e eeuw na meldigne dat kinderen op een onverklaarbare manier verdwenen. Ze zouden het slachtoffer zijn van een kannibalistische gedaanteverwisselaar.
Ooggetuigen zouden verklaart hebben dat er een grote, naakte zwarte man wegrende nadat hij probeerde een jong meisje uit haart bed te ontvoeren. Er werd op deze man geschoten, waarna hij in een grote zwarte hond veranderde. Niet land daarna werd een zwarte zwerver nabij Nekkerspoel gelyncht en levend gevild. De huid van deze man zou zijn begraven in de kelder van de Sint-Romsboutkathedraal en Mechelen.
Vanaf de achtiende eeuw tot in de huidige tijd wordt een geestachtige donkere figuur met vurige rode ogen gesignaleerd in Mechelen en omgeving. Er wordt verteld dat hij zijn huid zoekt om weer de gehele demonische figuur te worden die hij ooit was.
Tijdens de twintigste eeuw kreeg het beest een nieuwe naam; de Nicker. het wezen zou kinderen eten als ze na bedtijd op zouden zijn. Volgens het boek The Beast of Flanders werden mensen doof, stom en blind na het zien van de Nicker.
Ad blocker interference detected!
Wikia is a free-to-use site that makes money from advertising. We have a modified experience for viewers using ad blockers

Wikia is not accessible if you've made further modifications. Remove the custom ad blocker rule(s) and the page will load as expected.