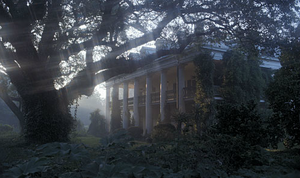 Deze plantatie, slechts een paar minuten weg van New Orleans, wordt geplaagd door de geest van een dame in zwart, Louise Ramond.
Louise Ramond
Edit
Louise Ramond was een Frans-Creoolse debutante in de glorieuze dagen van het oude Zuiden. Toen een minnaar op een dag dronken thuiskwam, draaide de verontwaardigde Louise zich snel om om de trap beklimmen en de minnaar alleen te laten. Ze viel en sneed haar been open. Omdat er in de vroege 19e eeuw geen goede medicatie was raakte de wond al snel geïnfecteerd; haar been moest geamputeerd worden. Het been werd begraven in het familiegraf in New Orleans. Omdat Louise besloot niet te trouwen, ging zij een kuis leven te leiden als non, en leefde op deze manier tot in haar 80-er jaren.
Ontmoetingen
Edit
Veel personeel van de Oak Valley Plantation hebben ontmoetingen gehad met de "dame in zwart". Zij beschrijven een verschijning die na enkele seconden in het niets verdwijnt. Lampen die niet aangesloten waren zouden aan en uit flikkeren. Toeristen hebben haar gezien rond het huis, meestal bij de grote trap, of lopend lands de statige eiken die zich langs de voorste deuren van het huis uitstrekken. Ze zou vrienden gemaakt hebben met een oud-gids genaamd Peggy, wiens naam zo nu en dan geroepen wordt door de geest.
Bronnen
http://www.oakalleyplantation.com</li></li></li></li>
http://www.ghosttraveller.com/louisiana.htm</li></li></li></li>[[Category:California ]]
Ad blocker interference detected!
Wikia is a free-to-use site that makes money from advertising. We have a modified experience for viewers using ad blockers

Wikia is not accessible if you've made further modifications. Remove the custom ad blocker rule(s) and the page will load as expected.