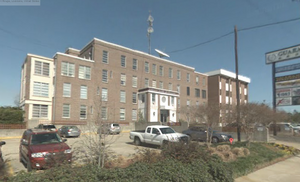 Het Guaranty Income Life and Broadcasting Building gebouwde behuisde oorspronkelijk de oude locatie van het Baton Rouge General Hospital (algemene ziekenhuis van Baton Rouge)
De begane grond van het gebouw werdt gebruikt als het mortuarium van het ziekenhuis. Nu herbergt het een cafetaria en verschillende kantoren. De oude vriezer van het mortuarium werdt verbouwt in een opslagruimte voor dossiers tijdens de renovatie voor het nieuwe zakencomplex.
's Avonds lijkt de gehele onderste verdieping een 10 graden kouder te worden dan de rest van het gebouw. ene paar van de bewakers weigeren 's avonds naar beneden te gaan en vele klaagden over de vreemde geluiden die van de onderste verdieping kwamen.
Er wordt zelfs gezegd dat de lift uit zichzelf omhoog en omlaag gaat terwijl er niemand aanwezig is.
Ad blocker interference detected!
Wikia is a free-to-use site that makes money from advertising. We have a modified experience for viewers using ad blockers

Wikia is not accessible if you've made further modifications. Remove the custom ad blocker rule(s) and the page will load as expected.