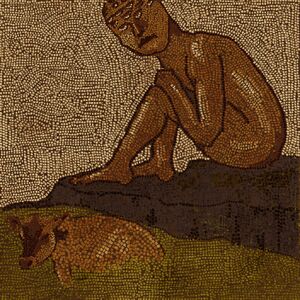 Argus Panoptes (Ἄργος Πανόπτης) of Argos is de wachter van de in een koe veranderde Io, afkomstig uit de Griekse Mythologie. Hij is de oerreus die over zijn gehele lichaam honderd ogen bezat. (Het Griekse woord pan betekent 'alles' en het Griekse optes betekent 'ziend'.) De rol als zeer oplettende wachter werdt benadrukt in een verloren gedicht van Aigimios:
En een wachter werdt bij haar (Io) geplaatst, de grote en sterke Argos, wie met vier ogen iedere kant op kijkt. En de godin gaf hem een onvermoeibare kracht, slaap zal nooit over zijn ogen vallen, en hij blijft standvastig waken.
In de 5e eeuw werdt de waakzaamheid van Argus verklaard; hij liet maar twee ogen tegelijk slapen, er waren altijd ogen open. Argus werdt op last van Zeus door Hermes gedood. Hera bracht al zijn ogen aan op de staart van het haar toegewijde dier, de pauw, die de ogen van Argus Panoptus behoudt.
Mythologisch Handboekje
Ad blocker interference detected!
Wikia is a free-to-use site that makes money from advertising. We have a modified experience for viewers using ad blockers

Wikia is not accessible if you've made further modifications. Remove the custom ad blocker rule(s) and the page will load as expected.